Regular price
$ 34.99 USD
Regular price
Sale price
$ 34.99 USD
Unit price
per
Sale
Sold out
Amplify your day with our Cordyceps Capsules! Cordyceps provides a boost in clean energy, improved function, and immune support. Our entire mushroom supplement line is 100% mushrooms, meaning there are no added grains or fillers. You get the magic mushrooms have to offer and nothing else!
The best pricing without compromising quality
Our cordyceps capsules are made from certified organic mushrooms.

These cordyceps capsules have been lab tested and contain over 27% Beta-Glucans and .2% Cordycepin. 

You receive 120 cordyceps capsules with your order. There is 500 mg in each capsule, leading to 60 servings in total. 

Our cordyceps capsules are gluten free, non-GMO, and vegan.
Our cordyceps capsules are hot water extracted from 100% mushroom fruiting bodies. 
Background information on cordyceps 
Cordyceps is a mushroom that is gaining major popularity in the United States for both cultivation and consumption. 
Cordyceps is a genus of mushrooms located in the Ascomycota phylum. The Latin name breaks down into "cord" and "ceps," meaning "club" and "head." Presumably, cordyceps is a club fungus that can fruit out of the head of an insect. The life cycle is radically different from most cultivated mushrooms, which are located in the phylum Basidiomycota. Cordyceps have an asexual reproduction stage, which allows them to skip making a fruiting body to produce spores. This is one reason why cultivation of cordyceps can be difficult; not all wild isolates will create fruiting bodies. Strain selection is vital in proper cultivation of cordyceps. 
Cordyceps as a common name typically refers to two species of mushroom, but scientifically it refers to a genus with over 400 species of mushrooms in it. This is the challenge with using common names; most of the time they apply to many different mushrooms. The two primary ones that are typically being referred to when people say "cordyceps" are Cordyceps sinensis (renamed in 2007 to be Ophiocordyceps sinensis) and Cordyceps militaris. Our cordyceps capsules involve the dried and powdered fruited body of Cordyceps militaris. 
Choosing cordyceps capsules that use fruiting bodies instead of mycelium grown on grain
It's important to consider what is in any mushroom extract you buy because not all mushroom powders, extracts, or supplements are created the same. Some mushroom supplement providers can call their products "mushroom supplements" even if there are NO mushrooms in the supplement. This is the case when mycelium is exclusively used without having any mushroom fruiting bodies involved.
The mushroom powders and capsules we provide use only mushroom fruiting bodies. This is in opposition to many mushroom supplement providers in the United States that sell extract products that are mycelium grown on grain. You get significantly higher beta-glucan contents when you get mushroom supplements with 100% fruited bodies opposed to mycelium on grain, and historically, the mushroom fruiting body is what people have used traditionally. 
A mushroom extract product is the result of mushroom fruiting bodies being extracted through alcohol and water, and then either offered as a liquid or processed into powder form. A mycelial extract is mycelium grown on brown rice and then extracted and freeze dried. The rice is included in these products. Historically, most studies have pointed towards beta glucans and polysaccharides as the primary marker of healthful compounds in mushrooms. The mycelium grown on rice products have large amounts of alpha glucans, or starch, and low amounts of beta glucans, because they still contain the grain on which they were grown. The mushroom fruiting body extracts are the inverse, containing high amounts of beta glucans but low levels of starch, or alpha glucans.
Reasons why people use cordyceps mushrooms 
Traditionally, cordyceps mushrooms have been considered as a mushroom to support against fatigue. A study from 2015 found that cordyceps improved aerobic activity, exercise metabolism and endurance performance in healthy but sedentary humans*. 
Another study involving mice found that using Cordyceps militaris for 2 weeks allowed the rodents to swim longer before exhaustion compared to the control group that did not supplement with cordyceps*. 
Cordyceps has also been traditionally used for sexual health in males*. One study showed an improvement in sperm quality and quantity in male rats*. Another study showed an improvement in reproductive activity in animals*. Yet another study of cordyceps on mice showed an increase in testosterone production*. 
Cordyceps contains a constituent known as Cordycepin. A study on this constituent showed that it may be able to inhibit viral replication*. Furthermore, polysaccharides like beta-glucans found in cordyceps may help to support the immune response against viral infections*. 
---
*The statements made on this website have not been evaluated by the FDA (U.S. Food & Drug Administration). The products sold on this website are not intended to diagnose, treat, cure, or prevent any disease. The information provided by this website should not be construed as individual medical advice.
View full details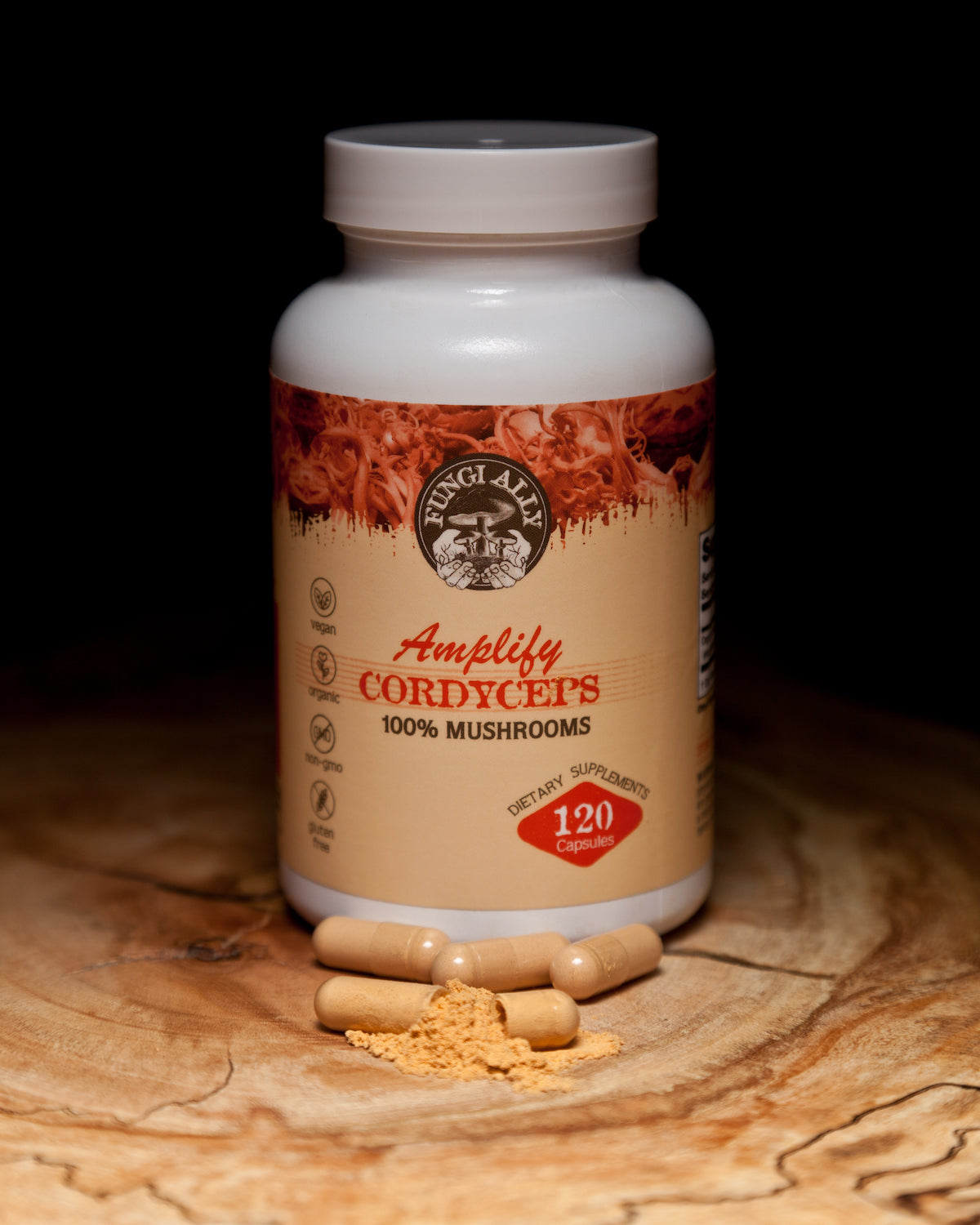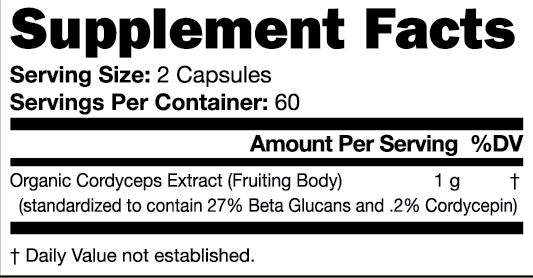 Customer Reviews
08/24/2023
Jessica O.

United States
Phenomenal quality
Instant impact, very high quality supplement. I was using a competitors but they gave me headaches and I needed to take the cordyceps for 1-2 weeks before feeling any impact. Fungi Ally cordyceps are really potent and gave my boyfriend energy immediately. They do not give me any headaches. Super high quality product, can't wait to try lions mane next!