Regular price
$ 29.99 USD
Regular price
Sale price
$ 29.99 USD
Unit price
per
Sale
Sold out
Amplify your day with our Cordyceps Mushroom Powder! Cordyceps provides a boost in clean energy, improved function, and immune support. Our entire line of mushroom supplements are 100% mushrooms. There are no grains or no fillers, so you can experience the magic mushrooms have to offer. Our cordyceps powder comes with a small scoop, so you can simply add the cordyceps powder to coffee, tea, smoothies, or a meal anytime of day. 
The best pricing without compromising quality

Our cordyceps powder is made from

certified organic mushrooms

.

This cordyceps powder has been

lab tested

to contain

over 27% Beta-Glucans and .2% Cordycepin

.

Our cordyceps powder is

gluten free

,

non-GMO

, and

vegan

.

Our cordyceps powder is hot water extracted from

100% mushroom fruiting bodies

.

You will receive 60 grams of cordyceps powder in each container you buy from us. 
Background on cordyceps 
Cordyceps is a mushroom that is gaining massive popularity in the United States, but it has a long history beyond that as well. 
Cordyceps militaris, which is the species used in our cordyceps powder, has been named and renamed since 1753 until it found its current nomenclature in Paris in 1818. Cordyceps grows throughout Europe and the United States but is found in the wild more commonly east of the Rocky Mountains. It is a parasitic mushroom that consumes insect larvae and pupae primarily from moths and butterflies. 
Cultivation of this mushroom has been conducted in Asia much longer than in the United States. It seems cultivation started in the late 90s and really exploded in Asia during the early 2000s. 
Understanding the use of cordyceps mushroom fruiting bodies over mycelium 
Currently, mushroom supplement providers can call their products "mushroom supplements" even if there are not mushroom fruiting bodies in the product. 
As far as we see it, a mushroom extract product is the result of fruiting bodies extracted through alcohol and water and then either offered as a liquid or processed into powder form. A mycelial extract is mycelium grown on brown rice, extracted, and then freeze dried. The rice is included in these products. 
Confusingly, some mushroom supplements don't use any mushrooms at all and instead use only mycelium. When you look at the back of these supplements they will say at the bottom other ingredients like freeze-dried myceliated brown rice. These products are primarily not mushrooms and they mostly do not involve the mushroom fruiting body. Instead, they involve mycelium grown on grain. 
Traditionally, the mushroom fruiting body has been consumed to support health. However, now that mushroom popularity has grown in the last 10 years, mycelium is now being used in supplements. Mycelium grown on grain has not been thoroughly researched but is economical and easy to scale for companies offering mushroom supplements. The choice to use mycelium on grain isn't based on efficacy. Instead, it is based on economics and it comes at a cost in quality. 
Rest assured that the cordyceps powder we provide to our audience (like all of the other mushroom powders and mushroom capsules) are created with 100% mushroom fruiting bodies. We do not use mycelium grown on grain. 
Reasons why people like to use cordyceps mushrooms
Traditionally, cordyceps mushrooms have been considered as a mushroom to support against fatigue. A study from 2015 found that cordyceps improved aerobic activity, exercise metabolism and endurance performance in healthy but sedentary humans*. 
Another study involving mice found that using Cordyceps militaris for two weeks allowed the rodents to swim longer before exhaustion compared to the control group that did not supplement with cordyceps*. 
Cordyceps has also been traditionally used for sexual health support in males*. One study showed an improvement in sperm quality and quantity in male rats*. Another study showed an improvement in reproductive activity in animals*. Yet another study of cordyceps on mice showed an increase in testosterone production*. 
Cordyceps contains a constituent known as Cordycepin. A study on this constituent showed that it may be able to inhibit viral replication*. Furthermore, polysaccharides like beta-glucans found in cordyceps may help to support the immune response against viral infections*. 
How to use cordyceps powder for your lifestyle 
The cordyceps powder we provide is a great way to add cordyceps to your life! The powder can be easily mixed into hot beverages, including your favorite coffee, tea, or hot cocoa. You can even blend it with hot water for a more personal cordyceps experience. 
Cordyceps is a tasty mushroom that makes a great broth as well, and it goes great in soups or stews. The broth tastes a lot like chicken bone broth, so it can be a great vegan or vegetarian substitute. 
Finally, our cordyceps powder is certified organic, so not only will you be getting the highest-quality supplement made from fruiting cordyceps mushroom bodies, but they are organic, too! 
---
*The statements made on this website have not been evaluated by the FDA (U.S. Food & Drug Administration). The products sold on this website are not intended to diagnose, treat, cure, or prevent any disease. The information provided by this website should not be construed as individual medical advice.
View full details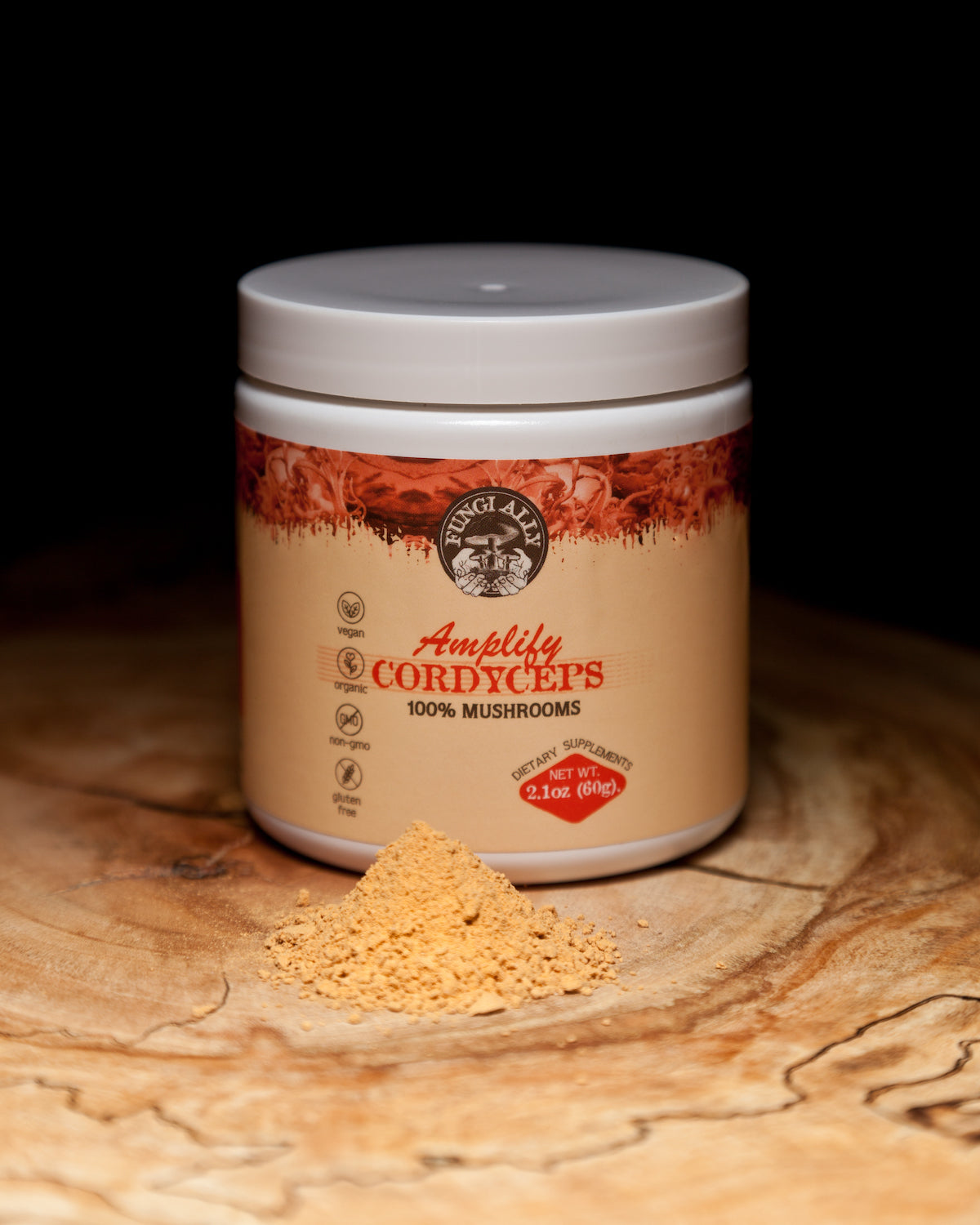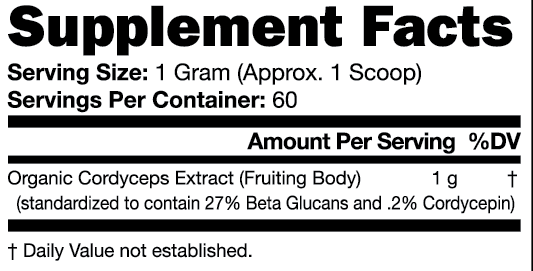 Customer Reviews
Less coffee, more happy!
I was skeptical about cordyceps, but after our cordyceps segment in the Mushroom Wisdom apprenticeship I had to give it a go. I'm really glad I didn't skimp on the scoops, I put 2 packed scoops in my coffee and I only need 1 cup for the whole day! Before adding cordyceps, I was up to 4+ cups a day. Definitely worth it
04/19/2022
Ivory C.

United States
Perfect shroom
Energy gained as expected